In this facility / facility
In this facility / facility
Asahikawa Park Hotel.An extraordinary story from the first step ...
When you enter the entrance, you will be greeted by an open lobby with a panoramic view of Asahikawa
Stylish sofas of various designs are arranged in the lobby, and you can sit on your favorite sofa and relax.
We do a wide range of spacing so that your child will not have to worry about moving around happily.
In addition, we do not have newspapers so that you can spend a relaxing time away from everyday life.
【3rd floor】 Lobby / front desk
lobby

The lobby features a large three-sided glass.
You can see the Asahikawa City of Asahikawa and the Daisetsu Mountains mountain range on the other side of the glass.
We are creating a relaxing space such as a welcome drink, a sake bar, and a BOOK corner.
Enjoy the beautiful city and mountain views, read a book, have a cup of coffee, and enjoy the night view and sake at night. Feel free to relax.
There is also a front counter, so check-in and check-out procedures are also possible.
This is the floor.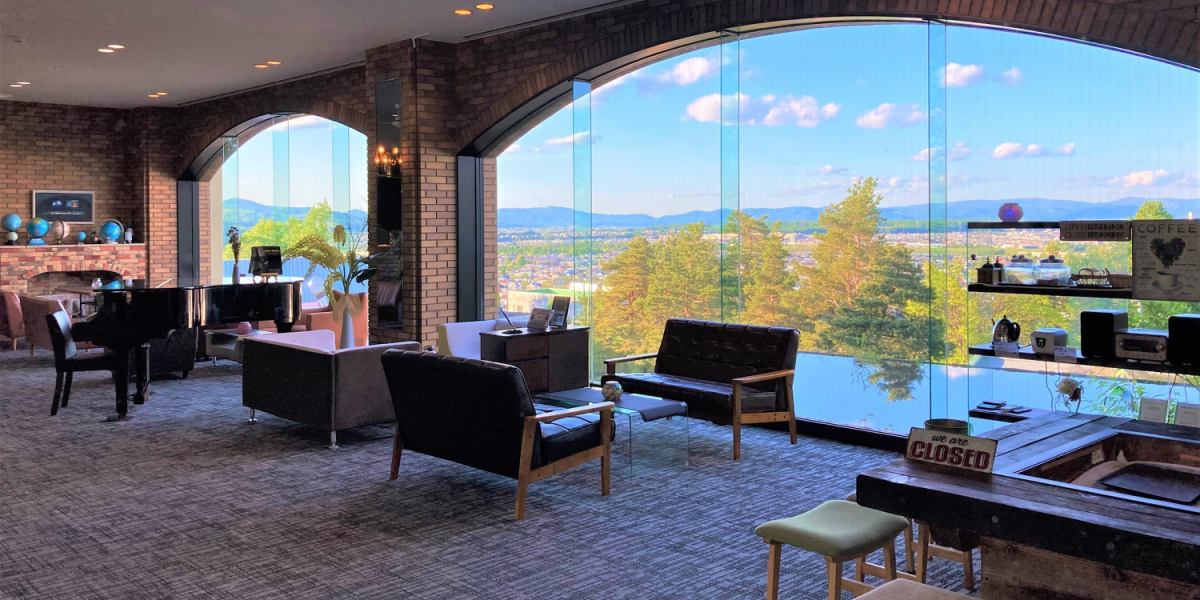 Moved from hotel amenities to 2F

Located on the 2nd floor of the hotel.
Here you can find equipment related items, rental items, etc.
The rooms are equipped with all the basic equipment such as amenitiesIn this corner, we mainly prepare "baby / kids products" and "bath bath products".
We offer items that will make your hotel stay more comfortable.

Asahikawa display focuses on information related to Asahikawa City, and there is also information on other areas in the suburbs of Hokkaido.
Asahikawa has many other attractions and attractions as well as Asahiyama Zoo
More detailed information and information so that you can tell everyone about the charm of this area.
Asahikawa tourist information version handmade by the hotel staff, so please have a look.

There are two table tennis tables in the table tennis room on the 3rd floor.
The usage fee is free and the available time is from 15:00 to 22:00.
*However, the PLAY time is 1 hour per group.After that, it can be extended if there is no reservation.

There is a book corner in the lobby on the 3rd floor!
From popular manga that adults and children can enjoy, to novels and essays of various genres ...
A wide variety of lineups.

*No room can be taken out ・ Can only be viewed in the lobby
【Showa bath】

The specially processed water-repellent tatami mat is soft and hard to slip, so children can rest assured.

Eliminates dissatisfaction such as getting wet and slipping, cold, and not being able to sit directly like the tile floor of a conventional bath.
The tatami-matted bath "Yama no Waburo (Japanese tatami bath) style bath" has realized a bath where you can relax as if you were in a Japanese-style room.
Specially processed water-repellent tatami mats are spread over the entire surface of the bath, and antibacterial properties are perfect, so you can sit down as it is.
low temperature dry sauna

It is a sauna with a temperature of 80 ° C to 85 ° C.
Because of the low temperature, you can stay in the water for a long time, so your body will be warmed to the core.

There are 3 laundry machines and a dryer on the 2nd floor of the hotel.(Reception / charge at the front desk)
There is also a free ice machine.
【Second floor】 Kids corner / rest area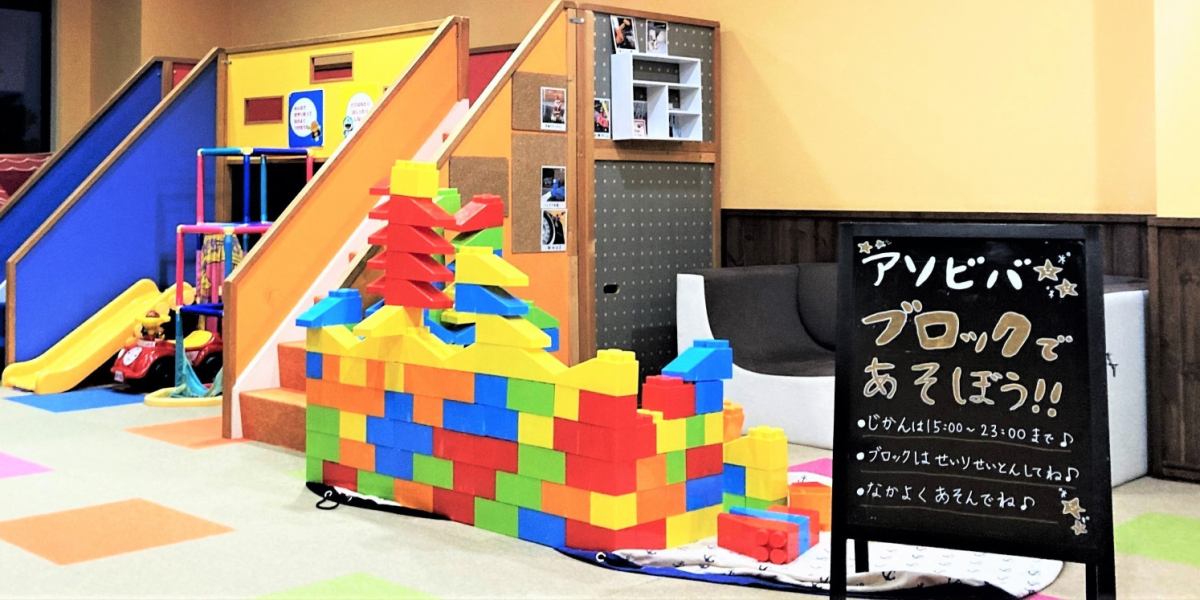 The rest area has a "Yama no Toshokan (library)" with many books for children.
There is also a kids corner on the same floor.
Restaurant LUMINE(LUMINE)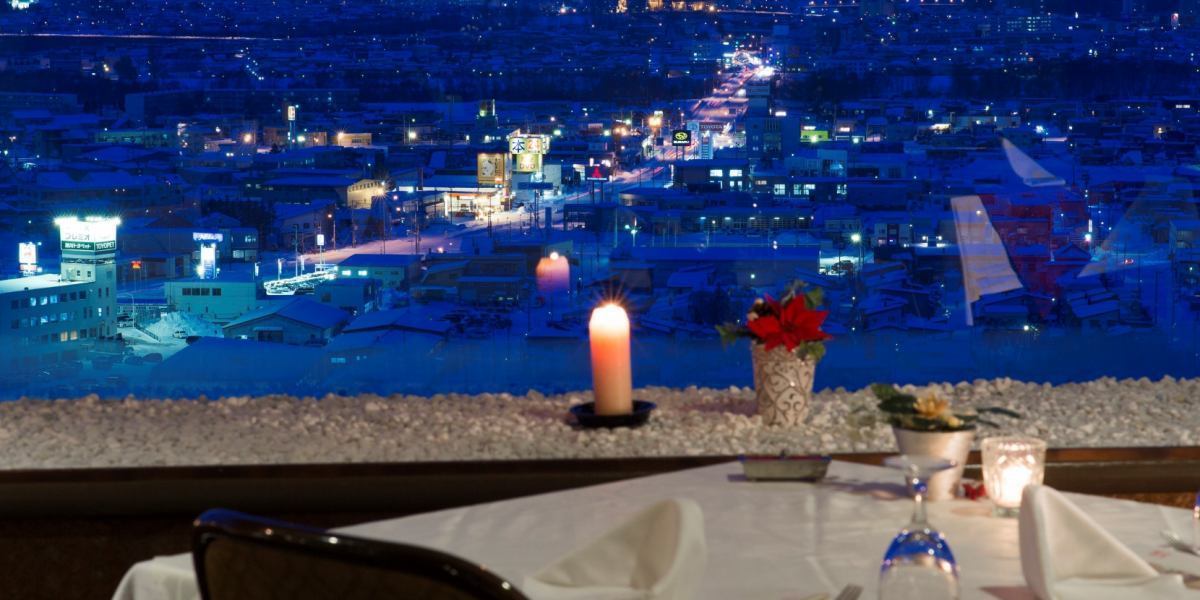 Asahikawa observation restaurant with a panoramic view of Asahikawa city.There is also a wooden deck on the open terrace.

Restaurant in Asahikawa Park Hotel top floor LUMINE LUMINE is,
Asahikawa city and enjoy your meal while watching the finest night view.
In addition, there is an open terrace next to it, so
In the summer, you can have a banquet or party while feeling the refreshing breeze.

【sit down】Up to 40 people
【Stand-up】Up to 60 people